Corporate Event Planners, Vegetarian Catering, Event Planners, and Vegan Caterers from Top Catering Companies in New York, NY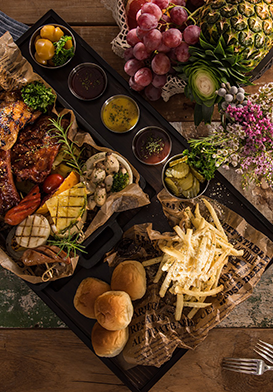 With a passion for fine dining and exquisite culinary creations, Voila Caterers is considered one of the top catering companies in New York. With specialties in vegetarian catering options and event planning, it's no wonder that clients turn to our event planners at Voila Caterers for a superb catering experience.
As a small family catering company, our mission is to provide our valued clients with delicious haute cuisine that your guests will be talking about for years to come. As non-vegan and vegan caterers, we provide dishes that satisfy all palates, so everyone can enjoy the culinary genius of our experienced chefs.
Event Planners in New York
Planning a special event can be burdensome. That's why our event planners work diligently to provide a full-service catering experience that cuts no corners when it comes to quality service. We pride ourselves on being one of the top catering companies in New York with top-notch event planners, such as our corporate event planners on standby ready to make your day unforgettable.
At Voila Caterers there is no competition when it comes to other NYC catering companies. Our event planners have supreme experience in planning special events including:
● Weddings – your wedding is the most important day of your life. Your event planners have a tremendous responsibility to make your day special, with Voila Caterers, we guarantee it will be.
● Cooperate Events – our cooperate event planners offer a diverse menu that's sure to please everyone on staff.
● Cocktail Parties – from hors d'oeuvres to stationary platters, with Voila Caterers your cocktail party is sure to be a hit.
Vegan and Vegetarian Catering in NYC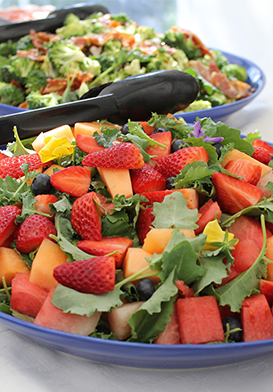 Finding good vegan caterers in NYC can be difficult. Often times vegetarian catering options sacrifice flavor for quick and easy vegan solutions. Your food preference shouldn't mean that you deserve anything but the very best.
Other catering companies pale in comparison to Voila Caterers. Our vegan caterers are equipped with ample experience in creating exciting and savory vegan dishes that are sure to impress. From soups, salads, hummus, and more, no vegetarian dish is served bland.
New York Catering Companies
As the biggest city in America, it's no wonder that New York City is considered a concrete jungle. Stacked full of businesses big and small, in New York the American dream is alive and well. But with thousands of businesses vying for your attention, how can you differentiate quality from just another cookie-cutter NYC company? It's all about reputation.
Voila Caterers has earned a reputation as one of the top catering companies in New York. Offering vegetarian catering options, no matter what your taste Viola Caterers offers clients an unsurpassed culinary experience. While other catering companies promise quality, Voila Caterers actually delivers. From meticulous event planning to the creation of succulent dishes, we know that food is the heart and soul of every special event.
---