Our Preferred Venues
La Marina
Few locations can match La Marina for its chameleon-like ability to become exactly what you want in a relaxed yet sophisticated venue. Its idyllic location affords breathtaking views of the Hudson River. With four unique event spaces, La Marina is uniquely positioned to deliver an eclectic experience, from laid back beach parties to upscale sit-down dinners. Convenience, facility options and breathtaking views are La Marina's primary claims to fame. In the ability to deliver so many differing settings from one location, no venue can compare to La Marina.

348 Dyckman St, New York, NY 10034 (on the Hudson)
PH: 212-567-6300
Website: www.lamarinanyc.com
La Marina Beach
If a waterside setting is your preference, La Marina is your destination. As Manhattan's only beachfront venue, La Marina brings the sand, sun and fun together under cerulean blue skies, providing that inexplicably casual yet elegant vibe. Make it a fun-filled affair with beach volleyball, paddle boating and cap the night with fireworks. Professional-grade sound and light systems give your party that concert feel, while our large stage, cabanas and private restrooms coddle your guests perfectly. Cool drinks, delicious food, fantastic conversation and the sights and sounds of the Hudson River make La Marina a favorite destination for everything from corporate appreciation parties, family reunions, beach weddings or any gathering that requires a relaxed, sophisticated ambiance for as many as 1200 of your guests. Voila Caterers has created many unique menus for La Marina Beach gatherings and we look forward to doing the same for you!
Main Dining Room
With its floor-to-ceiling retractable doors and sprawling views of the George Washington Bridge and Palisades, La Marina's Main Dining Room delivers an amazing setting for groups as small as 20 guests, or combine our Bar, River Terrace and Tree Deck to accommodate up to 600. LED Uplighting offers a sweet touch of contemporary flair. With A/V capabilities and a complete sound system, the Main Dining Room is perfect for both corporate gatherings and formal receptions.
Water Front Terrace
This private event space is fully covered with a translucent green house. The openness gives you and your guest ample waterfront views, creating a wonderfully spacious feeling. LED Uplighting, a private entrance, private bar and private restrooms make this fully tended private event space a delightful venue for up to 110 seated guests or 300 in a cocktail setting.
La Marina Lounge
The ultimate relaxation destination, La Marina Lounge oozes casual comfort. Cabanas, fireworks, comfy outdoor lounge chairs, plenty of shaded areas and a perfectly-planned menu by Voila Caterers will have your guests thanking you again and again for a wonderful party!
Riverside Church
Modeled after the 13th century gothic cathedral in Chartres, France, Riverside Church claims its place atop one of New York City's highest points. As impressively sprawling (covering two city blocks) as it is towering, Riverside Church melds historical architecture and contemporary conveniences to deliver an awe-inspiring presentation. The Riverside Church offers a wide variety of event and meeting spaces to accommodate both large and small gatherings.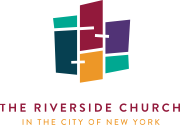 490 Riverside Drive New York, NY 10027
PH: 212-870-6700
Website: www.trcnyc.org
South Hall
Measuring 86 feet long and 62 feet wide, South Hall is Riverside Church's largest reception hall. It features a full stage and lobby, providing a hospitable entrance and a grand presentation area for wedding receptions, corporate presentations and so much more. South Hall comfortably accommodates 350 guests for a formal sit-down dinner and up to 500 for an open floor reception.
Assembly Hall
With its stone pillars and stage, Assembly Hall offers an impressive gothic-style space that accommodates up to 150 for a formal sit-down dinner or up to 300 for a cocktail setting.
Ninth & Tenth Floor Lounges
Gothic inspired, the Ninth and Tenth Floor Lounges offer breathtaking views of the Hudson River and New Jersey on one side, with upper Manhattan and the Bronx on the other. Slightly larger than the Tenth Floor Lounge, the Ninth Floor Lounge has a wood-burning fireplace and accommodates parties of 100 for a delightful sit-down dinner. The Tenth Floor lounge provides the same inspiring ambiance for parties of up to 75 in a sit-down setting.