Small Party and House Party Catering, Event Planners, Lunch Drop Off Catering, and Organic Caterers offering Organic Catering in NYC, New York, NY, and Surrounding Areas

Eating is a basic part of survival. We have no choice but to eat, however eating well is a personal choice. At Voila Caterers, we have taken this basic necessity and turned it into a culinary experience. Our skilled event planners have years of experience working with clients to select farm fresh menus that satisfying everyone's palate, no matter what your dietary needs and preferences.
As one of the best-rated catering companies in NY, we have experience in organic catering, small party catering, house party catering, vegan catering, drop breakfast and lunch drop off catering, and more!
Lunch Drop Off Catering
Voila Caterers offers casual catering services for luncheons both big and small. Our lunch drop off catering service offers you organic, garden-fresh dishes delivered right to your door. From soups and salads to sandwiches and hummus platters, our organic caterers put a tremendous amount of craftsmanship into making your luncheon menu unique and eccentric. At Voila Caterers simple is not in our vocabulary.

Event Planners for Small Party Catering in NYC
Just because your party is small does not mean your food should be. Voila Caterers offers small party catering services that include a diverse variety of delectable dishes with big flavor. Our event planners work with you to craft succulent menus that are sure to impress your guests from house party catering to catering intimate New York parties under the stars.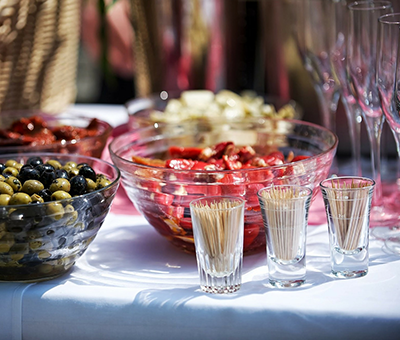 For whatever your small event, we offer small party catering to make your event an unforgettable day. Our event planners at Voila Caterers have experience planning small events like:
Cocktail Parties
Intimate Weddings
House Parties
Retirement Parties
Anniversary Celebrations
Baby Showers
Birthday Parties, and more
Organic Caterers in NY
Finding good organic caterers in New York can be a challenge. For the city that never sleeps, neither do the businesses that are competing for your attention. Everyone promises that they are the best, but we can prove it. Voila Caterers is a NYC organic catering company that is dedicated to the art of haute cuisine.
We offer a variety of fully organic catering menus for all your special events. At Voila Caterers we know that only the freshes ingredients yield truly succulent cuisine, which is why we hand-select only the best ingredients for our culinary creations.
Engaging all your senses, our organic caterers will leave you in awe with exciting and innovative flavors that excite your senses. From lunch drop off catering, house party catering, cooperate event catering and more, your NY even will be a hit with Voila Caterers.