Birthdays are always special. Are you thinking of celebrating the birthday of a loved one in style? Do you want to throw a big party inviting all your close ones together? Well, we all know a party needs a grand venue, fun decorations, and good entertainment. But what is even more important is the food. Food binds the whole party together. Without good quality food, your party will not be a success. You need to look for high-quality catering services if you want this party to succeed. We, at Voila Caterers, can be the birthday party catering service that you need. We are an experienced and reliable company that offers mouthwatering food quality. Right from sight to scent and touch to taste, our food is simply what your guests will talk about years after the invitation. We prepare a lavish menu depending on your needs and taste. So, if you are from areas like Harlem, Manhattan, Midtown, NY, NYC, or Upper East Side, then you can choose us.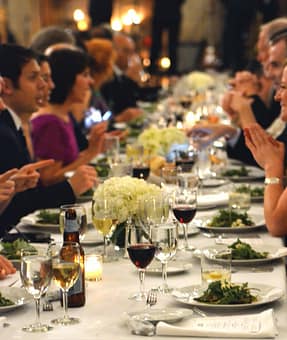 Here, we have put together a few essential things to check before choosing the right catering service. Take a look.
First of all, you should check the variety of menu that the catering company can provide. You should make sure that most of the common cuisines are available and at the same time, there is an innovation element that is also present on the menu. So, before choosing the catering service, you should focus on the menu.
Along with the menu, you need to make sure that the caterers who will be serving the food are also talented. They should have experience and training in how to cater to people and serve them.
After checking these factors, if you feel we can be the right option, then contact us today.