A very popular choice for a get-together or a small party is to invite people over to share the very first meal of the day. While cooking at home is an option an even better option is to hire a breakfast catering service. We, at Voila Caterers, bring to you our services in food preparation, delivery, and other such services to help you make your party a grand success. We believe that the first meal of the day should contain enough energy to keep you up and running for the remaining part of the day. We, thus, take great care to prepare the dishes with the choicest ingredients which are fresh and hand-picked by us. If you are a resident of the areas of NYC, NY, Midtown, Manhattan, Westchester, Upper West Side then you can place your trust in us to serve you with excellent food at the beginning of the day.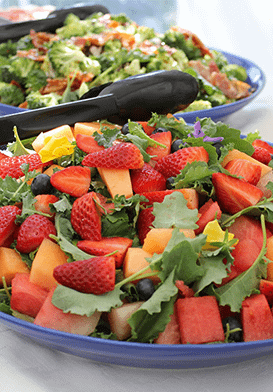 Here, we have put together a few vital points that you must keep in mind when hiring the services of a firm that serves the first meal of the day. Take a look.
Appropriateness of Menu Available
The first meal of the day should not only be a big one but should also be a healthy one. Starting the day with junk food will not be appropriate for the beginning of the day. Thus, be sure to check the menu for the right choice of food and for timely service.
Availability According to Preferences
Your choice of menu will depend, to a certain extent, on the guests whom you have invited. If you want to get food for older people then you should choose food that is softer and easier to digest. Similarly, for children, you will want food that is healthy and tasty. The menu should be customizable.
So, if you are looking for a firm that will serve food in the morning as per your requirements then be sure to get in touch with us without any delay.