Like most professions, catering services also require a ton of hard work, training, and skills to succeed. While many people equate the job of a caterer to a chef, the former needs much more additional qualities. Along with excellent food quality, catering services like breakfast catering, require other skills like marketing, accounting and customer relations. Most corporate businesses and formal events call for a sophisticated catering service that will be able to fulfill all their demands, that too at a competitive pricing. So, if you are on the lookout for such a company, then your search ends here at Voila Caterers. We make sure that all our culinary creations are exquisite. Additionally, we also make sure that our service throughout your event remains impeccable. If you want high-quality food with reasonable rates in areas like Harlem, Manhattan, Midtown, NY, NYC and Upper East Side, then look no further!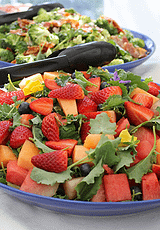 Here are two qualities that a good caterer must have. Have a look. 
When it comes to catering, every person gives a lot of importance to taste. While that is a salient factor, one should also consider food safety. This is all the more true when the event is arranged for corporate parties. The caterer should be aware of the food safety laws in their state and should comply with it. This is what differentiates a mediocre caterer from a great one. So, if you are searching for a high-grade catering service then make sure that they heed to all the safety and hygiene rules of the industry.
An outstanding catering service does not only offer good food but also constantly listens to their clients. When you sit down with a catering company, they should be open to your ideas and thoughts too. You should be allowed to change an ingredient or a dish according to your priorities. Your caterer should have good communication skills so as to successfully plan an event.
So, if you think that we are perfect for you, then call us now at (212) 316-9600.