Nowadays social events have gathered tremendous importance. Be it a mixer or a business event, hosting these gatherings becomes a lot easier if you have chosen to hire a cocktail party catering service. We, at Voila Caterers, bring to you our expert services in this industry. We are known for our list of exclusive and unique drinks that are invented by our expert employees. They are individuals who have received special training to do their job. The menu for this sort of event is decided with your consent is given your budget, your tastes, and the food preferences of your guests. Our menu includes both vegetarian and non-vegetarian dishes to make sure no guest is left out of the evening's enjoyment. If you are hosting such an event in the areas of Harlem, Manhattan, Midtown, New York City, Upper East Side, Westchester, then we are the company to rely on.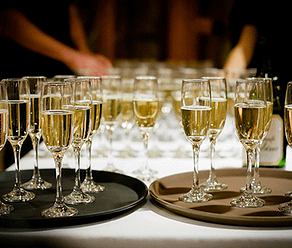 Here, we have listed 4 aspects that you need to check before hiring such a service for your dinner arrangements. Take a look.
Serving people at any event be it a wedding ceremony or an anniversary, proper preparation needs to be done by the company. It will ensure the smooth running of the event.
At any event, decorations are considered to be almost as important as the food and drinks. So check the design catalogs of the company before selecting them.
Perhaps one of the most important aspects of any occasion is the availability of good quality food and drinks. Food that is too spicy or too dry or too salty is capable of ruining the event.
Handling of Emergency Situations
Find out if the company is able to handle emergency situations that may arise at that time. Be it medical or otherwise, the firm should have a system in place for such circumstances.
So, if you have an upcoming event to plan for, call us at (212) 316-9600, immediately.