Voila Caterers can help you with corporate event catering in Harlem, Manhattan, Midtown, NY, NYC or Westchester. Corporate events could relate to team building, sales awards, year end functions, new product launches and more. These are important events and you want the best catering possible. That is exactly what you will get when you hire Voila caterers for your corporate event catering. They can help you breakfast events, lunch events or dinner events.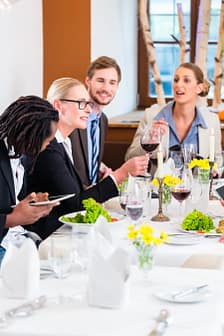 When looking for a corporate caterer you need to do some due diligence. When search for corporate event catering you will likely come across Voila Caterers because they are a recommended source for event catering in Manhattan, the Upper East Side, Upper West Side, Midtown, Harlem & the Tri-state Area. There reviews and referrals speak for themselves.
When it comes to corporate event catering you want to deal with a caterer that has a high customer satisfaction rate. The team at Voila Caterers have a passion for culinary excellence. That means you can rely on them and be confident that your special event will be a success and a memorable one. Whether you need professional catering for a product launch, a staff party, an award party, a year end function, sales meetings or board meetings, you can count on Voila to deliver. They don't just come to the party, they help make the party.
When it comes special events you want that wow factor. That is what Voila Caterers add to events, be it corporate or private. When you achieve that wow factor your staff and guests will talk about the events for a long time afterwards.
Voila can cater for all types of events and all types of dietary preferences. They can custom tailor your catering needs, be it for a breakfast, luncheon or dinner event. They can also help you with carefully crafted vegetarian and vegan meals.